Literary Tourist in Toronto
It required some juggling – lining up the cheap train tickets to coincide with the University of Toronto Victoria and St. Mike's College annual used book sales – but I did it without dropping a ball. I'd leave Sunday morning, arrive in T.O. mid-afternoon and browse the Vic, conduct my business on Monday, and Tuesday morning, then hit St. Mike's in the afternoon before getting back on the train at 5pm.
I know Victoria College. It houses portraits of two little known
Canadian literary
icons. Several years ago I attended Toronto Pursuits here, a super stimulating five-day program of 'great' reading and discussion that borrows from the Great Books Foundation method of 'shared inquiry.' I interviewed long time practitioner Eric Timmreck about it at the time for The Biblio File podcast. Listen here
Also spoke with Classical Pursuits founder Ann Kirkland about Literary Tourism and tours, here
and buttonholed
Randall Speller to talk about the history of Canadian book design, here:
You should consider attending Toronto Pursuits this July – beautiful way to while away a business week; and check out the tours Ann has planned for 2020.
But I digress, wildly. I was here for the book sale (warning, it starts to get upsetting here). I'd scoped out the two floors and spotted two items of interest both priced at $25 – a four volume set in trade paperback of Anthony Powell's A Dance to the Music of Time and this: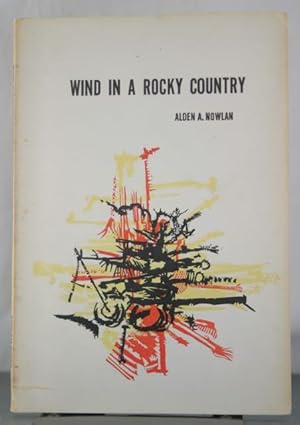 Wind in a Rocky Country by Alden Nowlan. I knew the Nowlan was important- – knew I wanted it. But do you think I'd pull the trigger? Of course not. I was going to play it smart and show up the next day when everything was on sale at half price. Maybe I wanted the charge of playing the odds, the thrill of taking a risk. Who the hell knows. I just knew I wouldn't make it back until noon the next day because I had an interview lined up at 10am with Bob Rae, former leader of the Ontario NDP, and interim federal Liberal party leader.
It was October, 2019 and Canadians were in the throes of a vile election campaign. I'd become quite engaged (translation: unleashed a curtain of hot-headed tweets) with events surrounding the SNC Lavalin affair. It had disturbed me that the Prime Minister of Canada had lied about how he and his minions had treated Attorney General/Justice Minister Jody Wilson Raybould (JWR), and that cronyism had taken precedence over the rule of law; that Justin Trudeau had, in fact, bullshitted the public so often with un-kept election promises, that it was hard to believe anything that came out of his mouth.
This is no way to run a country, I thought. So I decided to take matters into my own hands and add 'political books' to the Biblio File podcast's lineup. Then I'd set the world straight by interviewing people with influence, close to the action, while analyzing the political book as a 'genre,' of course.
And of course these people would have to have written a book.
Bob Rae had, prior to the 2015 election.
What's Happened to Politics? calls for greater political literacy and understanding and dialogue, beyond the partisan crap we're being served up these days. I figured he still had clout in the Liberal party. His book is full of excellent advice. I wondered why Trudeau hadn't taken it.
Reporter John Ivison had, all packaged up just in time for the election, with four years worth of meticulously monitored misspeakings and mendacities. Trudeau: The Education of a Prime Minister. A pretty accurate portrayal if you ask me. Not gratuitously negative, as some reviewers have suggested. It still seems to be selling well too, due no doubt I'm sure to the fact that Trudeau got re-elected. Of those I interviewed, John came first. Listen to our conversation here:
JWR had just released a book too – also leveraging the heightened attention politics receives during election campaigns – and while it doesn't deal directly with SNC (it features speeches delivered over the past decade, mostly outlining steps required to open 'doors' to self government) trust is an important theme. And I admit, I loved the way she'd told the truth to the nation.
I met with her in Ottawa prior to leaving for Toronto (an ironic twist: just as she launched the book, Global TV reported that her spousal MP travel expenses were ten times that of anyone else in Cabinet. The obvious implication was that she'd abused the privilege. I thought her husband was a lobbyist for some B.C. native groups, and told her so. As you can hear, she vehemently denies this, prompting a Liberal friend of mine to say she lied to me. I just figured they loved each other a lot :-). Listen for yourself here:
I arrived early for the Rae interview after breakfasting right across the street from the Ontario College of Art & Design
I'd been thinking about approaching them to see if they'd be interested in acquiring my "evolution of Canadian book design" collection. You know, the one that doesn't contain Wind in a Rocky Country.
I walked down to 250 University where Bob's office is located. One of its walls is graced by this 20 ft bas-relief sculpture designed by portrait painter Cleeve Horne who attended OCAD in the 1930s! It was installed during the building's construction for The Bank of Canada in the late '50s. The relief is supposed to represent a Canadian family and, apparently, was the first public abstract sculpture in Toronto.
I had 30 minutes to kill so I ducked into Starbucks across the street to swat up a bit. Sat in the window, looked up and saw Chester Gryski walking by. He saw me and came in to tell me about the St. Mike's book sale. I'd just interviewed Chester weeks before about his spectacular collection of Canadian fine press books. Listen here
I assured Chester that I knew about the sale.
Bob Rae and I had a good conversation about the current state of political discourse in Canada and around the world. He suggested that what we were doing – talking about possible solutions and sharing our thoughts with others – with people who can take action – was exactly the result he wanted from his book. So, if you're reading this, please share our conversation with your elected representatives, and recommend they read Bob's book!
Bob also educated me on real world politics. Once you leave the stage, you're gone – and so is your influence. Which probably explains why his book's message has gone unheeded by the PMO.
After our talk I headed briskly, nervously, over to Victoria College. I sped in, beetled over to the ephemera table where I'd spotted Windy and started hurriedly thumbing through the pile.
Gone.
Stolen from me.
What a colossal fucking amateur mistake. All my fault, just for wanting to save a measly $12.50. Regrets? Yea, I've had a few. Always connected with the books I didn't buy.
The book was designed and published by Robert Rosewarne and has been described as "among the most beautiful published in Canada in the 20th century." Goes for $125-$150 online.
Fuck.
The Powells were gone too. I had to settle for this
for my Publishers' Histories Collection. Little surprise that no-one else had bought it, given that Jack David and I are pretty well the only people in the world interested in these kind of books (and he already has a couple of thousand copies of this one clogging his warehouse).
Next stop was the Toronto Public Library near Yonge and Bloor. I walked over from the College, doing my best to clear my mind, dull the pain. I spoke with Jessie Amaolo who had recently assumed responsibility for the Library's world-renowned Arthur Conan Doyle Collection. It includes first editions and magazines, manuscripts and DVDs, funky porcelain pipes and Sherlock Holmes figurines
Listen to our conversation above. From the TPL it was a short hike up Yonge Street to 
Bar Centrale where I was scheduled to meet with "my publisher" Ken Whyte. Ken is perhaps best known as the former editor of MacLeans magazine – Canada's Newsweek – and the first editor of the National Post newspaper, personally hired by Conrad Black. He later went on to become an executive with Rogers, and more recently, in 2018, established his own non-fiction book publishing firm, Sutherland House Books. He's also a well regarded biographer of Randolph Hearst and, most recently, Herbert Hoover – a President I've always admired, but who hasn't received the best P.R. Ken gives him his fair due.
Six or seven months ago, Ken approached me with an offer to publish some e-books of selected Biblio File interview transcripts under very agreeable terms. Here's one of the books:
You can order yours here.
It was good to meet Ken in the flesh. He was in fine form, no doubt because he was fresh from lunch with ECW publisher Jack David, someone guaranteed to put you in a good mood if you spend any amount of time with him. Try it. Listen here.
At around the same time I was approached by Ken, I receive a glowing email from Ian Brown 'of the Globe.' It was quite something. Self effacing, flattering, and intriguing "a possible story," "a possible venture." I told him I'd be happy to connect next time I was in town. We did, and I suggested we meet at the Bar Centrale. After finishing with Ken I strolled around the block and came face to face with this
This is where they keep the beer in Toronto – at least in this part of town. A Taj Mahal that used to be a railroad station. Pretty impressive inside too. A temple of non-temperance.
I returned to the restaurant to find Ian enjoying a glass of wine at the bar reading the newspaper. We talked for perhaps 45 minutes. He enthused about how he knew Kristin Cochrane, Penguin Random House CEO, and that she and the books editor at the Globe were surely very interested in working with me on the Biblio File podcast. I assured him that this sounded great, but why wasn't he working with them? With his background in television and radio, he'd be the obvious choice, no?
Before we left he mentioned he'd recently talked with someone who'd be a great interview – involved with audio books she was, in New York. We parted company. I emailed him the next day thanking him for the drinks, mentioning that I planned to be in New York the next week (stay tuned for the back-story). Could he give me contact info for said audio book woman.
No response.
I followed up ten days later. Nothing.
While the practice is prevalent, I'm told, among teenagers on social media, I was unfamiliar with it. Until then. Yes. I'd been Ghosted.
We'll have to wait to see if anything materializes.
Next morning I met Marc Cote, publisher of Cormorant Books, at his home in front of which I was greeted by these beauties.
He delivers a spellbinding, compendious overview of the Canadian book publishing scene, past and present, and in so doing, levels some seriously controversial allegations at the Canada Council. Listen here:
After our lengthy, excursive, absorbing conversation I headed for St. Mike's. It was pretty crowded. Lots of books on offer. Lots of people to climb over. All I came up with however, happily, was this
signed by Graeme Gibson who had died only days earlier. It's a follow up to The Bedside Book of Birds, which won the Alcuin Award that year (2005) for best design. At the time, I interviewed its designer C.S. Richardson. Listen here:
One more stop, to interview Jennifer Yan about the Osborne Collection of Early Children's Books at another branch of the TPL on College Street (check out this sweet little beat up horn book)
and it was off to Union Station, and all aboard for Montreal.